Making mobility easy, move to a new home

easily

stress-free

rapidly



Why should you chose Home Explorer to assist you with your mobility ?
Since 2005, we've been helping staff and their families to move to a new region following transfer or recruitment. A personal consultant is at your side to assist you in finding accommodation and with all the procedures linked to your mobility

An agency
with solid experience
Thanks to their experience and knowledge of the region, the local property market and its players, our consultants will provide you with solid logistical and emotional support to facilitate your move.

Tailor-made
support
Every project is unique, so our tailor-made approach takes into account your professional, family and financial situation.
Our services will meet all your requirements throughout every step of your move.

A committed,
proactive team
Here at Home Explorer, human contact is key. We commit to contacting you within 24 hours and will provide you with a single, permanent consultant for the duration of the project.
Tailor-made relocation services
for ALL
Home Explorer : mobility partner for businesses since 2005
Home Explorer is above all a partner for Human Resources DEPARTMENTS
We facilitate the mobility of your staff by focusing on their well-being and that of their family.
Entrusting us with supporting their mobility helps to save time, control moving costs, improve integration and enhance your employer brand.
A team of experts ready to help
A qualified network to host you all over France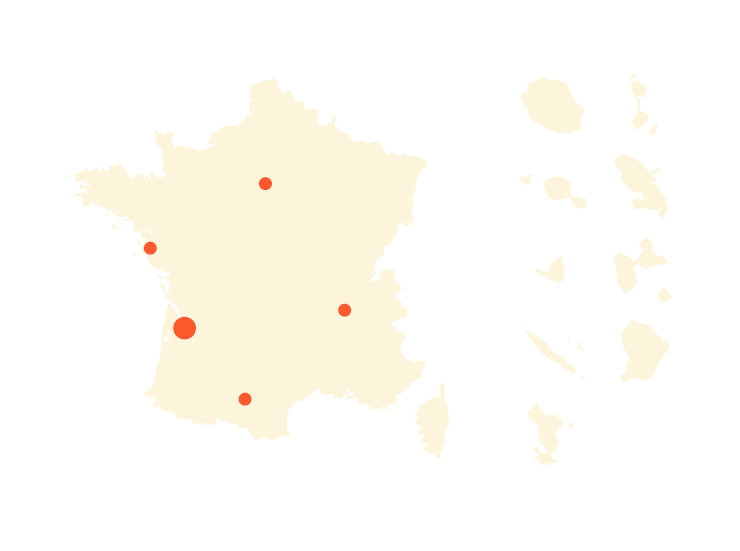 Our headquarter is in Bordeaux. Our agency
possesses a network of consultants and qualified partners all over France
able to meet all your professional mobility needs in a reactive way in France and abroad.
They trust us























What our clients think of us
High quality service and professionalism to help me in my housing search in Bordeaux. Listening to my preferences with valuable support : housing choices, remote inspection, meters connection. I sincerely recommend.
« I recommend ! »
Home Explorer found me an appartment fitting exactly my criteria despite the complexity of real estate market in Bordeaux. I am very satisfied with their services and I recommend it without any doubt!
Guillaume L.
Cdiscount
« A big THANK YOU »
Twenty-seven appartments in three different cities between 11AM and 4PM with seven different agencies. Alone, I would have not succeed for appointments and visits. A huge THANK YOU to Home Explorer.
Patrick L.
Satif
« Very good service»
Great availability, listening and advices.
Fabien B.
Dassault Aviation
Relocation agency in Paris
Every year, the capital city hosts many inner and outer suburbs working people. The tense real estate market in Paris might be intimidating and stressful.
Districts, neighbourhoods, choice of metro line… Many questions arise when you are about to settle in the City of Light. Rely on a relocation agency enables to better tackle mobility-related questions. Thanks to the reactivity and availability of our local consultants, find your housing quicker and ease your mobility procedures!
Relocation agency in Lyon
Third biggest city in France, Lyon, is a renowned place for being student-friendly and attracts every year many young active person. Hence, finding a dreamy housing might be complicated due to the growing demand. With their city knowledge and network, our local consultants are valuable support to dig up your new home! Whether or not in France, Lyon is looking forward to you!
Relocation agency in Bordeaux
City embellishment, high-speed line to Paris, companies and headquarters relocation… Bordeaux is seducing since many years and grows massively.
Housing demand is high and agencies particularly required. Our consultants share their network for smoothen your housing search. Such a service might be covered by the Mobili-pass assistance of Action Logement.
Relocation agency in Toulouse
Since several years, the pink city is more and more attractive. Southern city, undeniably, Toulouse is a great place to live! You are searching for a housing ? Whether you are apprentice, relocated or recruited worker, your procedures might be done by a relocation agency. Our services cover also city advices regarding the melodious city accent and its real estate market. We deeply value efficiency in your search.